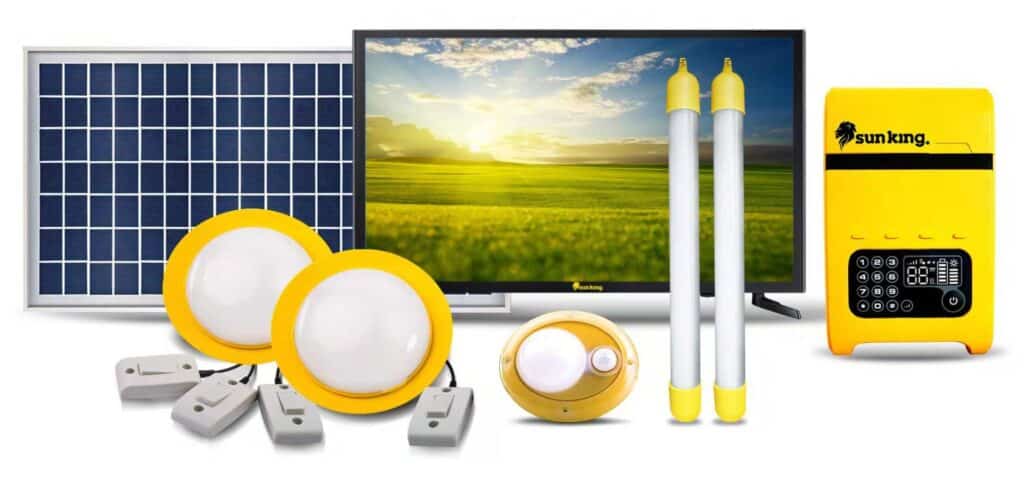 This portable Solar Home System 600 is an all-in-one package because it includes all of the essential equipment you'll need, such as solar panels, lighting, a TV, a fluorescent bulb, a digital HD LED TV that's 130x brighter than a kerosene lamp, and a motion sensing security lamp.
It is a low-cost solar system for house lights, DC TV, USB charging connections for phones, and connectors for other DC appliances. It includes a 50-watt solar panel, a 12.8V x 18AH Lithium Iron battery, and a 24-inch solar panel.
You can light up your personal space, entertain yourself, and enjoy renewable energy from the sun with this off-grid solar system. Now is the moment to go solar and save money on fuel.
FEATURES
Solar panel: 50W
Battery Type: Lithium Iron Phosphate (LiFePO4), with 2000 times deep charge and discharge cycles.
The lifespan is up to 4 years.
Battery Capacity: 12.8V 18000mAh
Charging time : 4~5 hours under adequate sunlight
Outputs: 6 DC connectors serve
ports: 12V, 2 USB 5V
Battery Protection Function: is available
Have you ever taken a challenging choice that ultimately made you happy because it furthered an important cause. Check out the resources listed below and Get Quotes or join the conversation using the hashtag  # solarhome600, #Solarpanel,#solarlight, #inverter.
You can also visit our store for more of this kind of product